Emilia, Age 3, Developmental Disorder (Rauch-Steindl syndrome)
There is nothing quite as powerful to a parent as their child's smile, but after Emilia was born, her mother Mary rarely saw a smile or eye contact.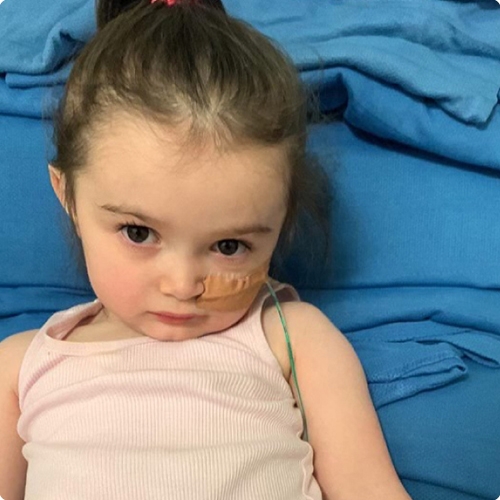 "In the early days we never would see laughter or smiles.''
- Mary, mum of Emilia
Emilia is Mary's second daughter. Mary's experience as a childcare worker led to some concerns about Emilia's behaviour.
"I started to notice signs that her development was a bit behind,'' Mary said. "She was about four months old, and I noticed a lot of hand clasping and not opening her hands to reach out for rattles and things.''
Mary took Emilia to a paediatrician who was also concerned and arranged for genetic testing. Emilia was diagnosed with a rare developmental disorder known as Rauch-Steindl syndrome. The features include developmental delay with speech and mild intellectual disability. As she gets older, she could struggle with weight gain, dental and skeletal issues. It was not inherited from her parents but is known as a "de novo'' or random genetic variation that could happen to anyone.
"I was happy when we got the diagnosis, because at least I knew an answer for why the things I'd been seeing were happening,'' Mary said. "It wasn't just in my head.''
"It was hard to deal with, but I just stayed positive, because obviously, with my background and career that I have in childcare, I felt I've seen this all before with all the children I have cared for, and I see them reaching those milestones. So why can't Emilia reach those milestones as well?''
Emilia has formed a special bond with her older sister Liliana who makes her laugh and encourages eye contact which had been a challenge when Emilia was younger.
"I hear a lot of laughter when they're doing that, and it makes me happy to see Emilia having such good interactions with her sister and being able to express her emotions as well.'''
In 2022, Mary held a Jeans for Genes fundraiser to support Children's Medical Research Institute and she recently went into the labs to meet the scientists doing work on rare conditions.
"When we went to Children's Medical Research Institute, I had the great pleasure of meeting those scientists who are researching these genetic conditions. It just made me feel I have a support unit,'' Mary said. "To think there's people out there that are doing something about it and looking at these genetic conditions for the children.''
Children's Medical Research Institute researcher Dr Pragathi Masamsetti is part of a team who look at the root cause of genetic disease and said there is much to be optimistic about for families like Emilia's.
"We are constantly striving to identify and understand the genes and pathways responsible for causing different developmental disorders,'' Dr Masamsetti said. "I hope our research will find better solutions for improved diagnosis, prevention and treatment of developmental disorders.
Mary urged everyone to support the scientists this Jeans for Genes Day.
"Supporting this cause is great, for everybody in the world. I never thought that I would have a child with a genetic condition, so I think that people should get behind it because it could affect you in the future.''
How research is helping kids with developmental disorders, like Emilia
Our world-leading Embryology researchers are improving our understanding of developmental disorders and discovering potential new ways to prevent, treat, or cure many conditions.
Your support of Children's Medical Research Institute by participating in Jeans for Genes makes all this and more possible.
Sign up to fundraise or donate today